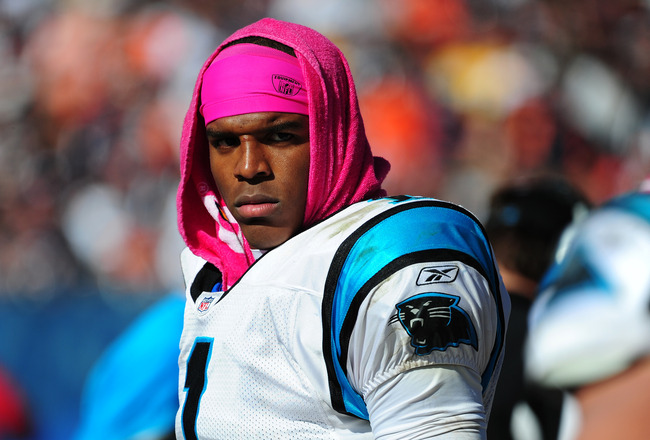 In golf tournaments, Saturday is called Moving Day. If you want to have a shot to win on Sunday, you need to set the table on Saturday. In fantasy football, Moving Day takes on a different sort of importance. You can't take too many things off of the table. Because a fantasy team in a hole has a tendency to fall apart. Owners stop caring, stop updating, even start saying despicable things like "Oh man, I'm sorry, I was super busy this week. It doesn't matter, though, my team stinks. We probably would have lost anyway."
I have no idea what this white boy, Burch, is talkin bout with Moving Day, but last time I moved, there were lots of Chinamen carrying four loko from the LES to Stuytown. Ninjas, we here!
So as we review our Week 5 matchups, we'll offer the usual prognostications, and include one or two Moving Day implications per matchup.
Let's go.
I'd say, somewhat for selfish reasons, this is the matchup of the week. The lone undefeated team, Lando, facing BMore Careful, currently 3-1. ESPN has my boys favored by 7. Despite the fact that I am starting Kyle Orton with a straight face. For different reasons,
we will both likely have a ton of Jack Daniels Saturday night
. Cam Newton gets a start for Lando, hoping to help the team overcome starts for
Isaac Redman
and Antonio Brown. Lando's counting on a good Steelers performance more than Bougie and Big Ben.
Son, how is this the matchup of the week? Lando doesn't have 'Dre and Cool (Johnson/Marshall), the core of his squad. He just rollin' out Mr. 400 Cam Newton to see if he can beat you on his lonesome. Oh yea, he got The Race too... But, he's fucked cause any points he gets with Cam, you're probably getting with Steve Smith. It's like you don't like your neighbor so you fuck his girl. Little do you know she got the herp. So, every time you win, he does too. Yea, it's exactly like that. Yall all in the Jeter herpe tree with Cam Newton and Steve Smith. Bmore Wins.
With a win, Lando becomes the favorite. With a loss, he can blame bye weeks and/or what would assumedly be a week Pittsburgh team. A win for BMore Careful just makes me insufferable as I continue forward with the season, while a loss will be immediately and unequivocally blamed on Kyle Orton and the early Ravens bye.
Rational Prediction: Lando 119, BMore Careful 113
Personal Prediction: BMore Careful 149, Lando 37
Two strong teams face off in a matchup that seems to have little downside as it relates to the rest of the season. But one of these teams has a lot more to lose in this one, and that team is the G Series. A loss amplifies the Jamaal Charles season-long injury and the subsequent Mark Ingram starts. And, despite a 4-0 start for the Lions, we all remember that Matthew Stafford is made of flesh, bone, and
papier-macher
. Eddie, on the other hand, is looking solid (as long as Vick is healthy).
We have the same situation in this matchup. Cytherea is giving Stafford, Megatron, and Smith herpe flavored gatorade. Stafford/Megatron gonna cancel each other out this week. I'm kinda scared of Ahmad Bradshaw, but even with a lot of my guys on bye, we gonna handle this. Why? Because of a train named Beanie Wells aka The Underground Smell-road. Burch, what I tell you when you wanted a trade? You can have anyone but Megatron and Beanie Wells. Beanie Wells you said? Yes, you can't touch what you can't see and no one knows where the underground smell-road is. Plus, the Eagles D is gonna wake up this week and shut Stevie Johnson down. Nnandi is gonna dedicate this game to Darth Vader, RIP AL. I almost started Jason Campbell in remembrance, but then I realized Al probably likes Vick more.
I'm seeing a blowout and plenty of excuses from Mr. Smith's G Series, this week based on Ingram, Gronkowski, and the Saints sieve of a D against the Panthers. On Eddie's side, obvious big days from Vick and Megatron, and a pleasant surprise from Dwayne Bowe. A G Series L would be devastating. And another big injury to the G Series squad will have this jamming through the Gatorade offices.
Prediction: Cytherea's Ark 133, G Series 104


Fresh off his near scrap with Jack Harbaugh (making the face
on the right
), Hawaii and the LTD+ squad are walking with their chests out. For no real good reason. One win against the hapless Re Up Gang, the other with a point total in the 90s. It ends here.
Two things will happen here -
The real A Rod
lights up the Falcons in Atlanta (again), and LTD forgets to sub out Brandon Gibson, he currently on a bye and starting as of press time. The only potential pitfalls for CwG are Mike Thomas, Ced Benson, and LTD+'s Adrian Peterson going against the awful Cardinals D.
I was going to add more commentary, but then I realized I only care about myself. "Am I really just a narcissist/ because I wake up to a bowl of lobster bisque?" - BAWSE, I Love My Bitches
HUGH! You know the Megatron Don made this for my squad. Deceptecon shit, LEY GO!
With a win, the CwG will have to openly admit that their fortunes ride with Rodgers, win, lose, or draw. His performance is currently masking some weak points for the team. A loss for LTD+ puts them in the fake-mediocre clubs. Wins over awful teams, no shot against the real players. I see multiple weeks of bye-week players getting starts for LTD+ in the future.
Prediction: Cats with Gats 110, LTD+ 89
CI and the Isenbergs can't catch a break. He's put up huge numbers with the ridiculous Brady-Welker combo while facing the second toughest matchups thus far. He's averaging over 122 a game and is 1-3. I see that becoming 1-4 with an unexpected upset this week. Brady and Welker are facing a legitimate pass D in their divisional matchup with the Jets, who are unlikely to shit the bed three weeks in a row. Now we just need Bougie to pull currently-on-a-bye Ray Rice and put in... oh... wait. Who can she put in? I'm throwing it out there, it won't matter. Bougie with the upset this week as Isenberg gets low numbers from Forte and Starks.
If Bougie can pull off this upset, she will have a glimmer of hope with Ray Rice coming back next week. If she doesn't, I see the Bantons packing it in. We're talking misguided trades, lashing out message board posts, and
more emo music
. Isenberg is the wildcard here. As long as he has Brady / Welker, he can win any week. A loss, though, and he might just delete the bookmark for the league website.
Prediction: Bougie Banton 114, Isenberg 112
Foursquare needs a pick-me-up. Badly. First step - please sub out Antonio Gates. He's not playing this week. If that happens, I see Skillshare falling to Foursquare this week. I think Nnamdi and the Eagles are going to make Fitzpatrick look like he went to
Lincoln Tech
, and the Jets will bottle up BJGE. To win, though, Foursquare needs Fred Jackson to continue his improbable run and for Run DMC to stay on the field. Seems easy this year, but anyone who has followed him in the past is less than optimistic.
I only see a win benefiting Skillshare as Mike and Malcolm seem to be on top of their squad and are looking even better with both Colston and Miles Austin back in the fold. A loss for the Foursquare crew makes me worry that the league website may be the focus of their next
hackathon
.
Prediction: Foursquare 107, Skillshare 104
ESPN currently guesses both of these teams will score just over 80. Both rosters currently have players on byes in the lineup. Not going to dignify this one with any deep thought. Both teams should pack it in, petition for a keeper league, and work for next year.
This matchup makes me feel like doing this.
Prediction: Complex 76, Re Up Gang 76 (Nobody wins)
Have a good weekend all.