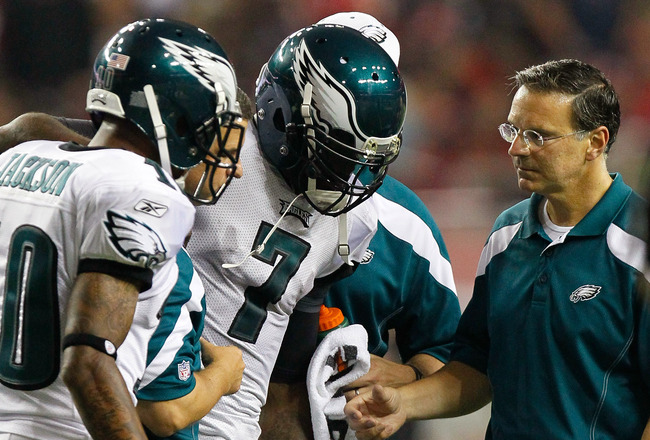 Michael Vick suffered the inevitable 2011 injury Sunday night. I wasn't shocked, but yeah, it hurt. So I had to count on Hakeem Nicks to lift the squad. And I heard Hakeem Nicks is good. Really, really good. And I needed him to be last night. To come back and get a W against
Skillshare
, I needed an unprecedented game from Mr. Nicks. We're talking somewhere in the neighborhood of 200 yards receiving, 10 catches, and 4+ TDs.
Shockingly, it didn't happen. And, by the narrowest of margins (
57.5 points
), my squad,
BMore Careful
, got knocked from the ranks of the undefeated.
Thankfully, there were more entertaining matchups in The Haus League this week than my pedestrian showing.
We had a Monday Night Football led comeback by
The G Series
, who rode (pause) Ahmad Bradshaw and the Rams D to the W over the
Re Up Gang
,
130.5 - 120
. Both Pusha T and LaDainian were unhappy with the loss, especially after LT added little in
his team's blowout win
over the Jaguars.
Despite the win, and the 2-0 start, things aren't much better for Coach Smith and his G Series team. Football + golf carts =
disappointment
. Every time. Luckily, they still have
Tiki
on the bench.
Now to go around the league -
Cytherea's Ark over Team LTD (124.5 - 99.5)
: Eddie started Sexy Rexy. Yes, 2-0
Rex Grossman
. And he got the W. Maybe due to his points (19 in a Skins win), or maybe due to the fact that Hawaii and Marcus started Devin Hester, CJ Spiller, and Hines Ward. Never a recipe for victory. LTD looks to rebound in Week 3 with a matchup against Re Up in a game we'll call "I don't think both teams can start 0-3."
Foursquare over Bougie Banton (124 - 91)
: Good for Bougie - Big Ben showed up. The bad: DeSean didn't. And neither did Brandon Pettigrew, who racked up half a point despite his Lions mauling the Chiefs, 48-3. Tony Gonzalez put together a banner day for the Bantons, though, compiling a solid 23+. On the bench. But that can't bring Tony G down. Not when his wife is anti-fur. And his wife is
his wife
. Meanwhile, Foursquare did its thing. And by Foursquare, I mean three gentleman (Brees, McFadden, and Maclin) accounting for 88.5, nearly besting Bougie on their own.
Lando over Isenberg (124 - 109)
: After a ridiculous week one for Isenberg (
Brady-Welker in 2011
), CI and the boys came back down to earth. If earth is 30+ from Tom Brady again. With little other help, though, Isenberg's team was handled by Lando, who continues to back up his draft boasting. His Kenny Britt
carved up
my own Baltimore Ravens, and he would have been fine with either Tony Romo's 25 points or Cam Newton's 28. Lando looms large as we continue the season.
Cats with Gats over Complex (117.5 - 100)
: In predictable fashion, Cats with Gats counted on their white triumvirate to improve to 2-0. Rodgers, Hillis, and Clark? Best NFL law firm since
the Law Firm
. It was a strong start for Complex with decent outings from Schaub, McCoy, and Mendenhall, but they couldn't overcome no-shows by the 49ers D (
who can't face the Seahawks every week
) and Kellen Winslow.
Three undefeated teams remain - Lando, G Series, and Cats with Gats. None of these teams faces one another next week, but it's looking like Cats with Gats faces the toughest road, Eddie's Cytherea's Ark while the G Series became decidedly less G when Jamaal Charles got an extra 15 weeks of vacation.
Week two of Oh Shit, I left him on my Bench?
Matt Ryan (QB, Atlanta) - 27 points (LTD started Mark Sanchez, 17 pts)
Fred Jackson (RB, Buffalo) - 26 points (Foursquare started Jonathan Stewart, 14 pts)
Tony Gonzalez (TE, Atlanta) - 23.5 points (Bougie Banton started Brandon Pettigrew, 0.5 pts)
AJ Green (WR, Cincinnati) - 23 points (Cytherea's Ark started Santana Moss, 14.5 pts)
Rob Gronkowski (TE, New England) - 22 points (G Series started Aaron Hernandez, 15.5 pts, lost handcuff roulette)
Dustin Keller (TE, NYJ) - 19 points (Complex started Kellen Winslow, 6 pts)
Devery Henderson (WR, New Orleans) - 17.5 points (Cats with Gats started Mike Thomas, 3.5 pts)
Willis McGahee (RB, Denver) - 16.5 points (BMore Careful started Felix Jones, 2.5 pts)
Deion Branch (WR, New England) - 16 points (Foursquare started Brandon Lloyd, 0 points)
Ben Tate (RB, Houston) - 15 points (Lando started Arian Foster, 4 pts. Pretty logical)
James Starks (RB, Green Bay) - 12.5 points (Isenberg started Plaxico Burress, 0 pts)
Shockingly, Re Up Gang picked the optimal lineup this week. And still lost. The only other entrant who missed out on the above list is Skillshare. Frankly,
I don't want to talk about it
.
Two weeks in and the league is a mess. Re Up still needs RBs. LTD still needs players. And G Series and I may need new first round picks (Sorry Vick and Charles).